Homepreneurs take to e-commerce with an online store set up within minutes using just a mobile phone

Are you a creative person doing craftwork during your spare time at home, and selling those works of art through your friends' circle and social media? Then you are one among the rapidly growing number of homepreneurs, helped liberally by better mobile devices and faster internet connectivity. Studies by multiple agencies indicate that the volume of sales by small retailers, especially homepreneurs via Facebook and WhatsApp, is on the rise.

Web storefront dream

Inspired by the popularity of platforms like Flipkart and Amazon, where people can both buy and sell, people with small businesses now own their very own online stores.

But reaching out to potential customers can be a challenge. While you can spread the word about the product via social media, setting up a website can be laborious, especially if you aren't tech-savvy.

The online retail boom has spawned many e-com enablers. One of them is Shopmatic, set up by three former Paypal employees. It is dedicated to helping small entrepreneurs move to the online space with ease, provides a full business solution, and hand-holds small businesses to scale up. The company has a presence in India, Singapore and Hong Kong, with around 85,000 customers on board. Recently, it added a few new features, and it plans to enter Indonesia, Thailand, Philippines and Middle East in the next six to nine months.

"Our primary market segment is homepreneurs or people selling through Facebook or those who have a creative talent of their own but who haven't been able to take it to the next level," says Anurag Avula, Chief Executive Officer & Co-founder, Shopmatic Group.

How it works

Shopmatic has two options. One is the basic model, Shopmatic Go, which is a mobile-based builder where you can set up a store for free in less than five minutes. Once set up, the product photos can be uploaded directly from the phone. There is an image optimiser backend that improves quality of the photos. The online store can be enabled for e-commerce with options for accepting payments via credit cards, debit cards, bank transfers. There is social media integration as well, to reach more people. The seller handles logistics: product packaging and shipping. The paid version, Shopmatic Pro, provides a full ecosystem, ranging from online storefront and payment to shipping, the ability to sell on marketplaces, discount tools, and a lot more.

For Neha Ailawadi, who sells unique decorative pieces, Shopmatic has worked well. "When we started this journey, the team guided me through the entire process. I was trained on how to create my own website, what look I want for it, how to list products, how to set up contact details and how to use SEO tool, Google analytics, and so on," says Ailawadi.

This platform is also for those who offer services, such as training in yoga or aerobics, or people who provide tuition to students, or even chartered accountants.

Selling globally

One of the features added recently helps merchants to open an account with Shopbot and automatically show up in product-comparison searches. Shopbot helps people to research, compare prices and buy online.

It brings together over 50 million online shoppers and over 15 million online products across the globe.

Ashish Kumar, who sells handcrafted fashion products under the brand Simply Kitsch, has in fact now begun looking beyond India. "We are excited to create our presence internationally and discover potential buyers all across the globe, opening new avenues we never thought we could before."

Another feature launched recently is professional support for a photoshoot of products, digital marketing assistance, and various financial services like loans, in partnership with HDFC Bank.

All the storefronts are also WhatsApp and Facebook Messenger enabled, which means, customers can easily communicate with the buyers through these messenger platforms.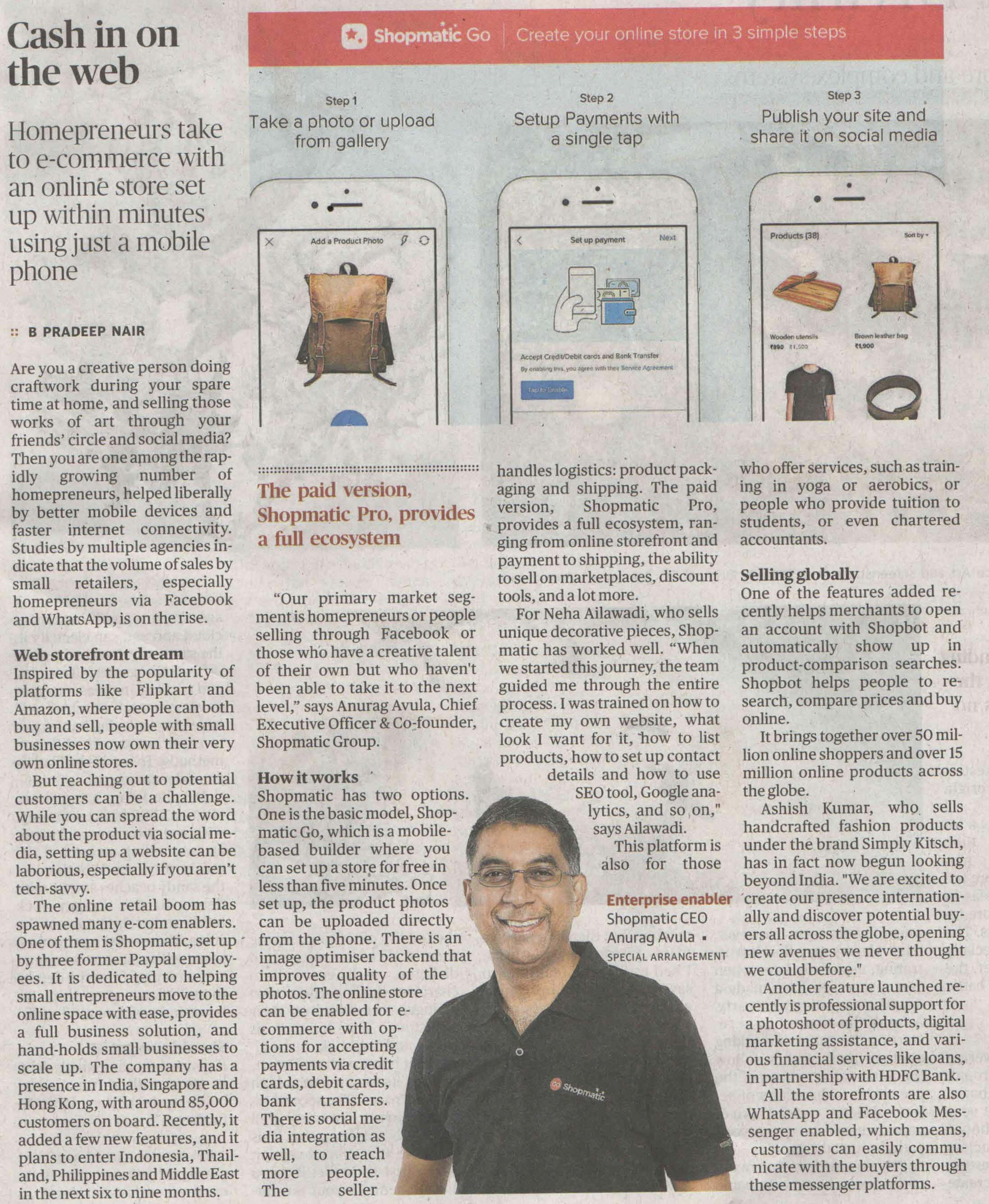 Source: The Hindu